You know the thing I hate most about interviews? Having to buy new interview clothes when the biggest reason you need a job is to get money. I have an interview Monday which would be fine if I could easily find smart, cheap clothing. I think I might have found a nice outfit in the end thanks to H&M but I did have to brave the Oxford Street Primark

for a belt. Just a belt!!! I couldn't find one ANYWHERE!!! And I despise Primark. But it all made me think maybe if I'd have stuck to the Internet I would have saved myself all that hassle. In fact I would have just got this tea dress and some brown brogues and had done with it. But I didn't I went to the shops, which brings me to my excitement of the day! Get yourselves to the Selfridges shoe galleries ASAP!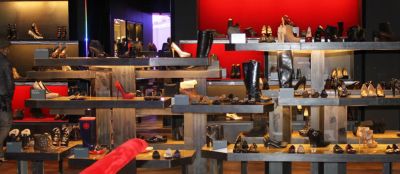 As well as wonderful window displays and thousands of shoes they have a photo booth where you can photograph yourself with a whole host of gorgeous shoes. For free! Me and my flatmate took full advantage of it and I will attempt to get the pictures on here tomorrow. No time now as I am off to see a band, for free!!!